Love triangles are common in soap operas. Liam Spencer (Scott Clifton) had been going back and forth between Hope Logan (Annika Noelle) and Steffy Forrester (Jacqueline MacInnes Wood) for quite some time on "The Bold and the Beautiful," and Collider ranked them as one of the best soap triangles. Liam's father, "Dollar" Bill Spencer (Don Diamont), has also been involved in a fan favorite triangle on "B&B." While constantly fighting for control of his company, Spencer Publications, and often attempting to manipulate Forrester Creations, Bill had also developed a reputation as a womanizer. He fell in love with Katie Logan, and then her sister Brooke Logan.
Over the years, Bill would have affairs with other women such as Quinn Fuller (Rena Sofer), Lauren Fenmore (Tracey E. Bregman), and Donna Logan (Jennifer Gareis) among others, per Soap Central. But at times, both Katie and Brooke seemed to each be the love of his life, and the path to happiness for the three was fraught with secrets and lies. While relentless in his business pursuits, he was equally so when trying to get together with either woman. However, Bill's love for both Brooke and Katie over the years would ultimately land him in the arms of a surprising partner.
Let's take a look at his journey with the two women.
Bill and Katie became an unlikely pair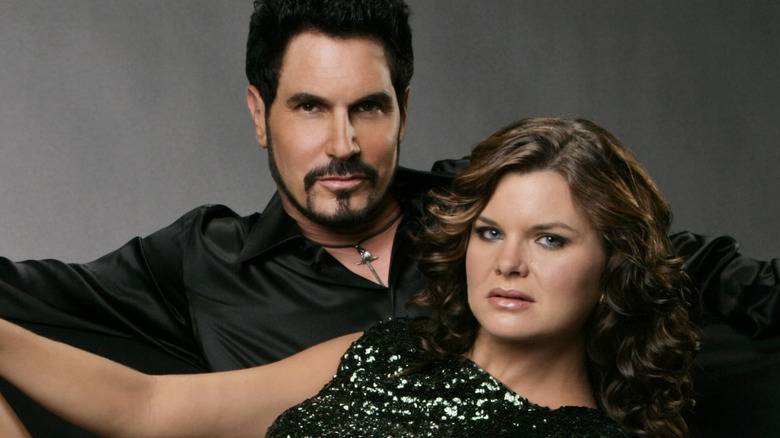 In 1987, Nancy Sloan played Katie Logan on "The Bold and the Beautiful" who had been through a lot in her life including needing a heart transplant after being shot. When Heather Tom took over the role in 2007, things still weren't going well for Katie. She miscarried the baby she and Nick Marone (Jack Wagner) were expecting, destroying their plans for marriage and causing her to turn to alcohol. At a local bar, Katie was drowning her sorrows when she met Bill Spencer. Despite his reputation for being a womanizer, Bill was amazingly tender and wanted to get to know her rather than attempt to get her into bed, per Soap Central.
Bill found out about Katie's heart transplant, and wanted to give her something to give her life a new purpose. Katie was good for him because she made him question his own merciless tactics. According to Soaps in Depth, Bill was able to manipulate things so that fashion design company, Forrester Creations, came under his control via his own business, Spencer Publications. He made her the CEO of Forrester, and working in close proximity caused Bill and Katie to fall in love and they got engaged. But Steffy Forrester (Jacqueline MacInnes Wood) was determined to get her family's company back, and attempted to start an affair with him as part of her scheme.
Bill's misdeeds strained his relationship with Katie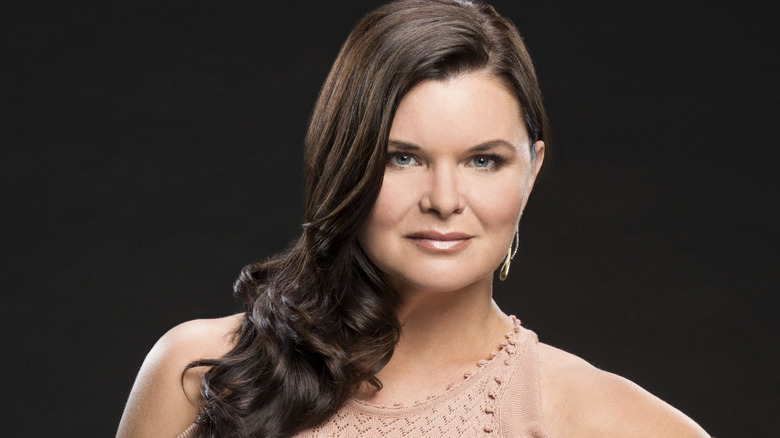 Steffy Forrester was also unhappy that Bill Spencer Jr. (Don Diamont) was going to marry Katie Logan, even though he and Steffy were becoming attracted to each other. Steffy stole Katie's engagement ring from their house in order to blackmail Bill. If he didn't give her his control of Forrester Creations, she would tell Katie about their fling. Bill acquiesced, but still ended up marrying Katie (via Showbiz Cheat Sheet). Bill and Steffy, however, were growing closer to each other, especially when she kept secret the fact that Bill attempted to murder Amber Moore (Adrienne Frantz).
Per Soaps in Depth, when Katie eventually found out about Bill's misdeeds, she had a heart attack. Bill had been planning to leave her for Steffy, but changed his mind when his wife got sick. Steffy had been with his son, Liam Spencer (Scott Clifton), long before she and Bill had their affair. After Steffy was injured while riding an ATV, Bill manipulated her MRI to make it appear that she was in danger of dying. This caused Liam to feel duty-bound to stay with her. Katie learned about this deception and planned to tell Liam, but Bill stopped her and locked her in a tower. However, she managed to escape and told Liam about what had happened, per Soaps.
But Bill, ever the womanizer, started having fantasies about Katie's sister, Brooke Logan (Katherine Kelly Lang).
Katie's actions ended her marriage to Bill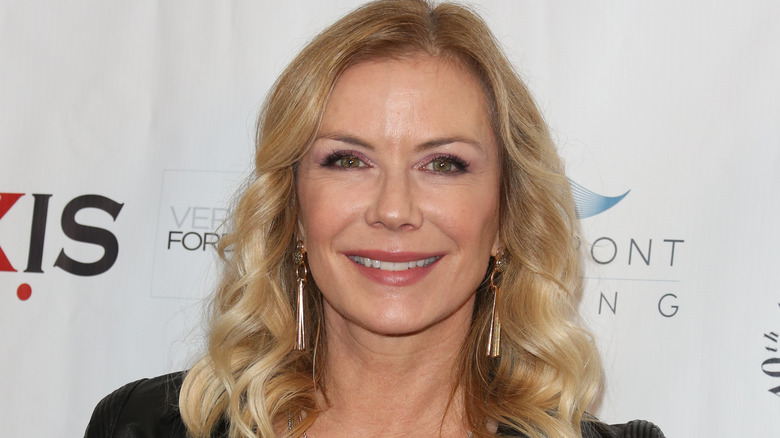 Brooke Logan had several failed marriages under her belt on "The Bold and the Beautiful." Not only had she separately married brothers Ridge and Thorne Forrester (Thorsten Kaye and Winsor Harmon), but she'd also been previously married to their father, Eric Forrester Sr. (John McCook). As they got to know each other, sparks started flying between Brooke and Bill, per Soap Central.
Because of her health issues, Bill was concerned when Katie got pregnant because she'd be risking her life. Katie went through with it anyway, and when little Will was born, she was consumed by postpartum depression. Fearing the end was near, and seeing the chemistry between Brooke and Bill, Katie insisted that they get together so that Will would still have a mother figure in his life. After recovering, Katie realized that Brooke and Bill were starting to fall for each other (via Soaps in Depth).
Bill had been drinking heavily, and caused a car accident, ending up at Brooke's so he could recover. However, Katie found him there and insisted they get divorced. So, Bill and Brooke started having an actual affair. But Katie suffered heart failure again, so Bill ran to her side. Although they tried to work things out, Katie found out about the affair and this time got the divorce. Things took a turn for the worse for Bill when Brooke revealed that she was pregnant with his child.
Ridge Forrester worked hard to keep Brooke and Bill apart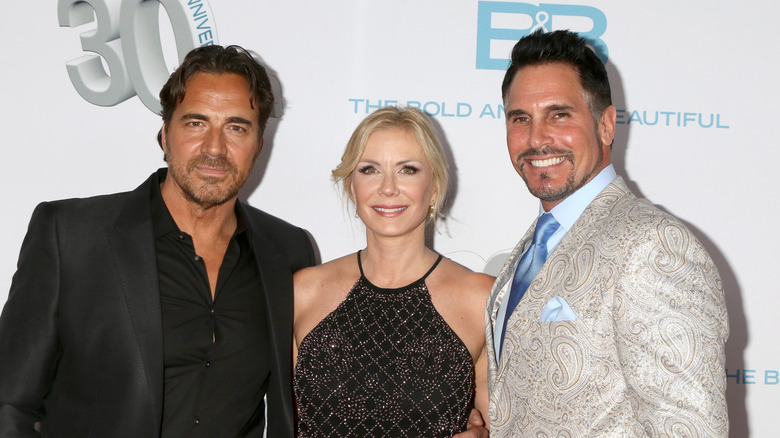 Per Soap Central, Bill Spencer (Don Diamont) and Brooke Logan (Katherine Kelly Lang) broke up and Brooke had a miscarriage on "The Bold and the Beautiful." Bill decided to go mountain climbing in Aspen. During the excursion he slipped, and nearly fell off the cliff. After his near-death experience, he ran back to Katie so that the couple and Will could be a family together.
Katie agreed, but the thought of Brooke being with Bill were too much for her, and she started drinking. Eventually, Katie pulled things together and decided to divorce Bill. After a while, as Brooke and Bill got closer, they decided to get married. However, Ridge Forrester (Ronn Moss) interrupted the proceedings, revealing that Bill had an affair with Quinn Fuller (Rena Sofer), per Soaps in Depth.
Brooke and Bill broke up yet again, and Brooke then pursued Ridge. But Ridge had begun a relationship with Caroline Spencer (Linsey Godfrey) so Brooke started drinking. Although Ridge and Caroline eventually broke up and he was free, Brooke started to dig up her old feelings for Bill. She'd been working with him at Spencer Publications, and the two attempted to get married once more. Ridge broke that wedding up as well, but despite his efforts to keep Bill and Brooke apart, the couple finally managed to tie the knot in 2017 (via Blasting News).
Bill's love cost him Brooke and Katie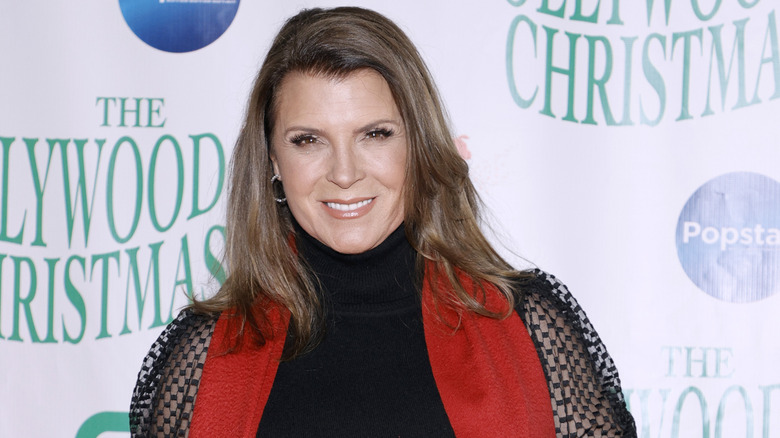 Ever the bad boy, Bill had burned down Spectra Fashions on "The Bold and the Beautiful," per Soaps She Knows. When Brooke Logan (Katherine Kelly Lang) found out, she divorced him. As Soaps in Depth reported, Bill would continue to vacillate between Katie and Brooke over the years. The final straw for Bill and Katie was when she heard him telling Brooke how much he loved her. He then told Katie the same thing, but she couldn't enter into another relationship with him. Bill tried a few more times to separately get Brooke or Katie to be with him, but they ultimately rejected him, per Soap Opera Spy.
Bill's personal life had hit an all-time low, and he felt dejected, making him ripe for the picking for the sinister Sheila Carter (Kimberlin Brown). Sheila had terrorized the city over the years, including shooting her son Fin Finnegan (Tanner Novlan) and his wife Steffy Forrester (Jacqueline MacInnes Wood), and it looked like she would be heading to prison. Desperate for love, Bill threatened Finn and Steffy that if they testified against Sheila, he would reveal that Steffy's mother Taylor Hayes (Krista Allen) shot him years ago, via Soap Dirt. Now, Sheila is free and living with Bill. While Bill feels they are perfect together, he's still wary that Sheila may possibly have played on his feelings for her freedom, via Soaps. We're excited to see where Bill's new relationship goes.