Days of Our Lives spoilers tease that Li Shin (Remington Hoffman) has quite a bit to answer for when it comes to the women in his life. First, he almost murdered Stefan DiMera (Brandon Barash) before anyone even knew Stefan was still alive in order to keep him apart from his true love Gabi Hernandez (Camilla Banus).
When that plan was thwarted, he instructed Dr. Wilhelm Rolf (Richard Wharton) to brainwash Stefan to not only forget that he loved Gabi, but that he actually despised her.
Days Of Our Lives Spoilers – Stefan DiMera Was Brainwashed!
The brainwashing worked and Li proposed to Gabi. Meanwhile, Li's sister Wendy Shin (Victoria Grace) suspected what Li had done. With the help of Johnny DiMera (Carson Boatman), Wendy located Rolf who confirmed the truth.
Armed with this knowledge, Wendy confronted Shin and made it clear that she planned to reveal the truth to Gabi before the wedding. But LI guilted his little sister into remaining quiet.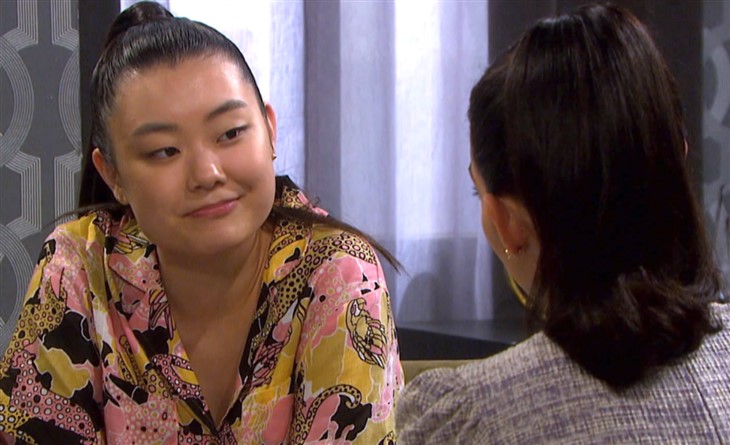 DOOL Spoilers – Wendy Shin Kept Her Brother's Secret!
As much as she hated what Li did to Stefan, she felt sorry for Li after he begged her to keep her mouth shut. Wendy didn't want to hurt her brother by taking away the woman he loved.
Her guilt continued to grow after Gabi asked Wendy to be her Maid of Honor. Wendy interrupted the wedding ceremony and almost revealed the truth but couldn't go through with it. Gabi and Li were then married right as the clock struck midnight on New Year's Eve.

Days Of Our Lives Spoilers – The Truth Came Out!
Eventually, Gabi remembered her own confrontation with Rolf. Rolf has drugged Gabi to make her forget that he admitted the brainwashing. She was furious and set out to find Stefan. Meanwhile, Li continued to pressure Wendy into helping him convince Gabi to forgive him. Li's lack of respect for the women in his life will likely end with his death.
Gabi and Wendy both have had enough of Li's terrible treatment. It's easy to imagine a scenario where Li physically attacks either Gabi or Wendy and the other one kills Li to save them. If that happens, look for Wendy and Gabi to vow to protect each other by staying silent.
What do you think?
Will Li get violent with either his sister or Gabi? Will Li pay for his crimes with his life? Will Gabi and Wendy vow to keep Li's true fate a secret? Anything can happen in Salem so stay tuned to Days of Our Lives streaming every weekday on Peacock. And don't forget to check back right here regularly for all your Days of Our Lives news, information, and spoilers!