The Bold and the Beautiful spoilers reveal that one of Sheila Carter's (Kimberlin Brown) enemies is Brooke Logan (Katherine Kelly Lang). After Katie Logan's (Heather Tom) failure, Brooke could try to use seduction to reach Bill Spencer (Don Diamont). However, that could lead to Sheila taking extreme measures and covering up her brand-new crime.
The Bold And The Beautiful Spoilers – Bill Spencer's Romance
B&B spoilers reveal that fans were just as shocked as the characters when Bill and Sheila's romantic alliance was exposed. Just recently, Bill begged Katie for another chance.
Bill also used the same speech with an engagement ring for Brooke. Then, there seemed to be a possibility that writers would pair Bill and Li Finnegan (Naomi Matsuda) together. That ended up going nowhere, though.
Now that Bill is with Sheila, everyone can't wrap their heads around it. Something is definitely wrong with Bill, but will it be figured out in time?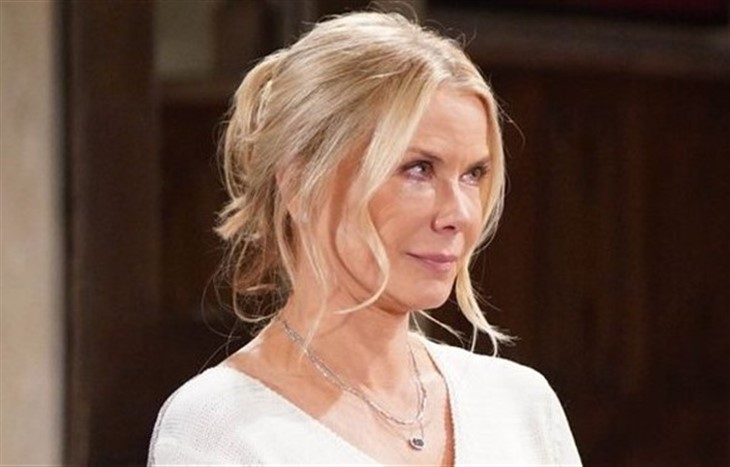 B&B Spoilers – Katie Logan's Failure
Fans recently watched as Katie told Brooke, John "Finn" Finnegan (Tanner Novlan) and Carter Walton (Lawrence Saint-Victor) her plan. Katie decided to confront Bill and find out what the heck is going on. When Katie was reminded of Sheila, the character said she could take care of the villain.
However, Katie's plan backfired. Not only did Bill not reconsider his romantic alliance with Sheila, but the two passionately kissed in front of Katie.
The Bold And The Beautiful Spoilers – Brooke Logan's Seduction Scheme
The Bold and the Beautiful spoilers reveal that Brooke will make a risky move to protect her family. Considering that Bill has always had feelings for Brooke, could she use that to get rid of Sheila?
Maybe Brooke will lie to Bill and tell him that she's reconsidered his marriage proposal. Of course, Brooke has no intention of marrying Bill. However, it sounds like something Brooke would do to get Bill away from Sheila. The only question is if it will work or not.

B&B Spoilers – Sheila Carter's Cover-Up
Sheila doesn't deal with rejection or competition very well. So, if Sheila thinks Brooke could interfere in her relationship, what will she do? Will Sheila kidnap Brooke and hold her hostage? If so, Sheila won't want attention drawn to Brooke going missing. So, Sheila might send some texts from Brooke's phone explaining the character's disappearance.
At some point, someone is going to wonder why Brooke never speaks on the phone. That could be the beginning of Sheila's downfall. Share your thoughts on what Sheila's next move might be. What are your predictions on how Brooke protects her family? Could it lead to Sheila kidnapping Brooke?

source Link