The Bold and the Beautiful spoilers reveal that Li Finnegan (Naomi Matsuda) could embark on a new mission. The dedicated doctor might just do that after learning about Bill Spencer (Don Diamont) and Sheila Carter (Kimberlin Brown). Is it possible that Li could break Sheila's mysterious hold on Bill? Keep reading to find out what could happen next with this storyline.
The Bold And The Beautiful Spoilers – Li Finnegan's New Chapter
B&B spoilers reveal that Li only shows up on the soap once in a while. However, she is still very important to the main storyline right now: Bill and Sheila's romantic alliance. Li was the one who smuggled John "Finn" Finnegan (Tanner Novlan) after he was shot by Sheila.
Li kept Finn alive but did so in secret. Everyone, including Finn's own wife, Steffy Forrester Finnegan (Jacqueline MacInnes Wood), believed that the good doctor died. However, Sheila eventually discovered Li was keeping Finn alive. After the truth came out, Li and Bill seemed to form a connection. However, Steffy wasn't so quick to forgive Li for keeping the truth about Finn from her for all those months.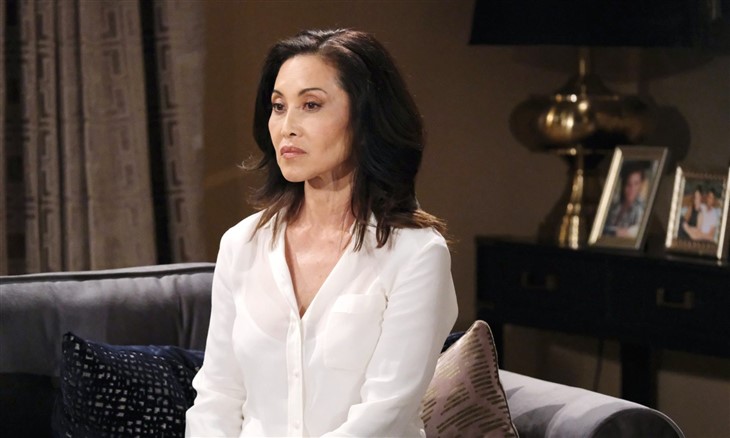 B&B Spoilers – Bill Spencer's 180
Even though Bill and Li seemed to be getting cozy, the storyline was abruptly dropped. At least, that is the way it seemed at the time. Then, Bill proposed to Brooke Logan (Katherine Kelly Lang), which she rejected. Bill also gave a similar speech to Katie Logan (Heather Tom), who refused to reconcile.
Now Bill is suddenly in cahoots with Sheila. Making the situation even more bizarre is Bill and Sheila's romance. As Katie mentioned in a recent episode, Bill isn't acting like himself. Liam Spencer (Scott Clifton) and Wyatt Spencer (Darin Brooks) also made a similar observation.
It's also been noted by fans that Bill doesn't really give anyone answers. Bill also fails to look people in the eye except for Sheila. So, those could all be clues on what is really going on with Bill.
The Bold And The Beautiful Spoilers – Katie Logan's Failed Plea
The Bold and the Beautiful spoilers reveal that Katie begged Bill to reconsider his decision. However, Bill didn't really give Katie much of an answer. What Bill did do is quickly shed a tear. So, it's clear that Bill knows that this situation with Sheila is wrong.
Bill might not be hypnotized or brainwashed. It probably isn't the overused brain tumor plot, either. It sounds like Sheila has something on Bill or someone he loves. Could something from Katie's past be the reason why Bill is forced to be with Sheila?

B&B Spoilers – Unexpected Twist
Li is a doctor and is very bright as well as observant. So, it could be Li who figures out what is really going on with Bill and Sheila. Some fans still have not forgiven Li for keeping Finn's survival a secret from Steffy. So, maybe Li will earn full redemption by saving Bill from Sheila's curse? Share your thoughts in the comments and remember to keep watching the CBS soap to find out what happens next.