The Bold And The Beautiful spoilers suggest that Brooke Logan (Katherine Kelly Lang) could turn up missing after she makes a play for Bill Spencer (Don Diamont). Sheila Carter (Kimberlin Brown) realizes that Brooke is a much bigger threat than Katie Logan (Heather Tom) ever could be. Will Sheila make her go away?
The Bold And The Beautiful Spoilers – Brooke Logan Terrifies Sheila Carter
The Bold and The Beautiful spoilers reveal that not a lot bothers Sheila. However, Brooke will throw something at her that strike fear like no other. Will Brooke's words put her in harm's way?
Sheila will find herself back in a corner and that is not a good place for her to be. Sheila does very destructive things when she sees she is losing control of the situation.
Sheila knows not to hurt Brooke. Sheila may resort to kidnapping Brooke and may go as far as to try to get Deacon Sharpe (Sean Kanan) to assist. However, Sheila wouldn't dare harm one hair on Brooke's head. Sheila knows how Bill feels about Brooke and that would put an end to their alliance no matter how Sheila is controlling Bill.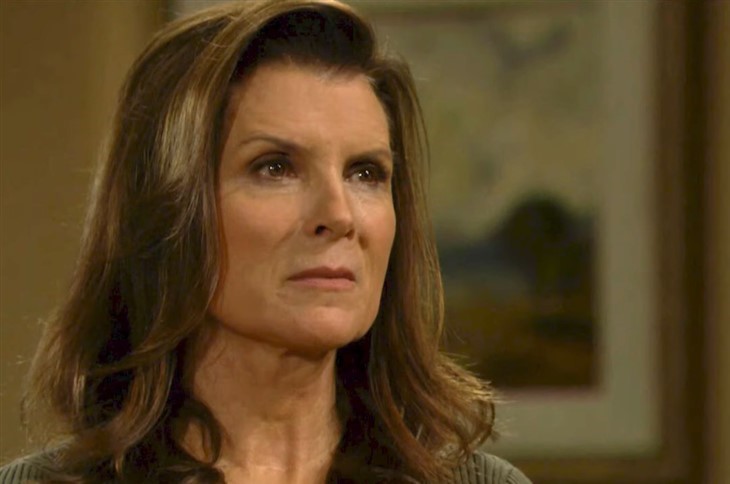 B&B Spoilers – Bill Spencer Would Do Anything For Brooke Logan
Bill has made it clear time and again that he believes he and Brooke belong together. As much as Bill claims to love Katie, Bill has put his feelings for Brooke before her time and again. Sheila has seen this over the years and truly fears that Brooke could put an end to her cushy little agreement that she has with Bill currently.
Sheila may decide that she needs Brooke out of the way before Brooke convinces Bill to send her back to prison. Brooke may be the only person who can reach Bill in the state he is in but Brooke could certainly change his mind. Will Sheila knock Brooke out and perhaps send a text that she has gone off to meet Ridge Forrester (Thorsten Kaye) on his travels?

The Bold And The Beautiful Spoilers – Taylor Hayes Could Be The Key To Crack The Case
Brooke's family may believe that Brooke has taken off and buy that excuse for a time. however, it is highly unlikely that Taylor Hayes (Krista Allen) would. Brooke and Taylor have become very close and recently decided to plan a girls' night. A drastic change like Brooke disappearing would certainly get off red flags with Taylor.
Of course, someone would call Ridge to confirm if Brooke is with him at some point. Could Sheila set it up so Deacon Sharpe (Sean Kanan) would be Brooke's hero? Perhaps that would turn Brooke's feelings toward Deacon and away from Bill. Whatever Brooke's plan, Shiela will certainly be scared, will Brooke be the one to take Sheila down?