The Bold and The Beautiful spoilers and rumors tease that Katie Logan (Heather Tom) may have put a Sheila Carter (Kimberlin Brown) target on her own back. She tried desperately to get through to Dollar Bill Spencer (Don Diamont) about Sheila being a danger right in front of Sheila, and Sheila may feel threatened!
The Bold And The Beautiful Spoilers – Bill Spencer Took Down His Photos
After the confrontation between Katie and Bill in Sheila's presence, Bill took down all the wedding photos and others of Katie in his condo. Then Bill made love to Sheila on the floor in front of the fireplace, as if to seal the deal that Katie was no longer in his heart.
But Sheila didn't look so comfortable when Katie was actually there, and got that little look in her eye that means she was plotting.
Sheila's bound to have a plan if Bill seems to be influenced by Katie or anyone else away from himself. That means Katie's pleas, which brought some tears to Bill's eyes didn't go unnoticed by Sheila and Katie might have put a target on her back.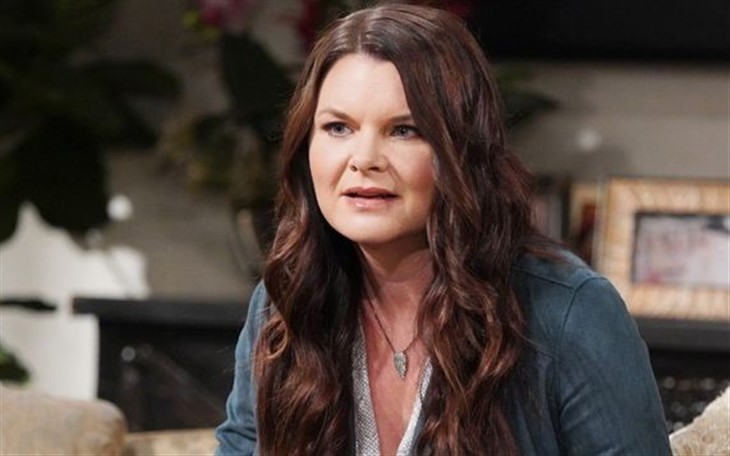 B & B Spoilers – Sheila Carter May Have Feared Katie Logan's Influence
Sheila undoubtedly noticed Bill's eyes start to tear up as Katie pled with him to think about their son and his older sons. Katie was full force trying to influence him by putting guilt trips on Bill, which Sheila claims she'd never do. But Sheila is the first to remember all those Logan guilt trips that they are all so good at – and they call HER manipulative?
Sheila ramps up her narrative to Bill, about how she will never judge him or try to mold him into their preference like they always did. But in the meantime, she plots her attack on Katie, should she have to remove her influence for good.


The Bold And The Beautiful Spoilers – Katie Logan's Got Health Problems
Sheila knows Katie's got some serious health problems, although for right now she seems to be okay. She's had both heart and kidney transplants, a kidney from Flo Logan (Katrina Bowden) and a heart from Storm Logan (William DeVry). Sheila's not going to do anything really obvious like come after Katie with a gun, but she might make her thinks she will just to shake her up.
Maybe Sheila can scare her so badly that she'll have a heart attack, or if nothing else, she'll inject her or spike a drink. Sheila's a nurse, but she knows what will cause kidney or heart failure if ingested and which ones are untraceable!